Roldan Companies Inc. Announces New Documentary Film CYBER CRIME
Roldan Companies Inc. Announces New Documentary Film CYBER CRIME, Exploring the Impact of Digital Corruption
"CYBER CRIME is a documentary that needs to be seen by all considering the state of cyber security in our world today. It is in an ever evolving state, and people need to be aware of the dangers that come along with it," says Charles Henson, Managing Partner at Nashville Computer Inc.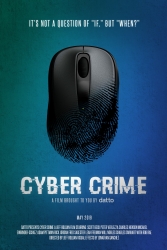 Brentwood, TN, May 30, 2019 --(
PR.com
)-- Launches in Select Theaters May 2019
Roldan Companies Inc., known for documentaries I-ology and Words of Art, will premiere an original documentary film CYBER CRIME at select movie theaters nationwide this May. Directed by award-winning documentary filmmaker Jeff Roldan (Words of Art, Miracles in Action), CYBER CRIME explores the world of cyber crime and its impact on businesses and individuals.